At The Singing Kettle we try to use as much locally sourced produce as possible, which includes, but not limited to, the following suppliers, who are based in and around Whitby:

In 1993 Ian and Fiona Clacherty established Stonehouse Bakery and Tearooms in the village of Danby situated in the beautiful North Yorkshire Moors National Park.
Stonehouse Bakery is a small craft bakery dedicated to producing high quality craft breads and bakery products. Every day a wide range of products is handmade using natural ingredients without the use of artificial additives or preservatives.
Stonehouse Bakery now has outlets in Saltburn, Loftus and, of course, Danby. We have an extensive list of shops, pubs, hotels and restaurants, which we deliver to on a regular basis, which includes The Singing Kettle Whitby.
We can supply a range of food for corporate and social events and incorporate dietary requirements.
For all trade enquiries please contact us on 01287 660006 or email: ian@stonehousebakery.co.uk Our office hours are Monday to Saturday between 10.00 a.m. & 4.00p.m.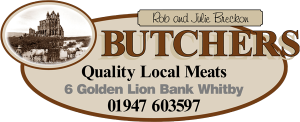 Breckon Butchers, which is family owned and run by Rob & Julie Breckon, is situated in the heart of Whitby on Golden Lion Bank.
They supply us with their delicious homemade Steak Pies, which are filled to the brim with their fantastic local, prime, aged Steak, as well as a selection of their fabulous cooked meats for our rolls and sandwiches.
For more information please call Rob or Julie on 01947 603597